Throughout 2021, activity in the construction industry soared. This increase in activity was a reaction following a period of unprecedented inactivity because of the coronavirus pandemic, but this came at a time when the industry was also suffering from a skills and materials shortage.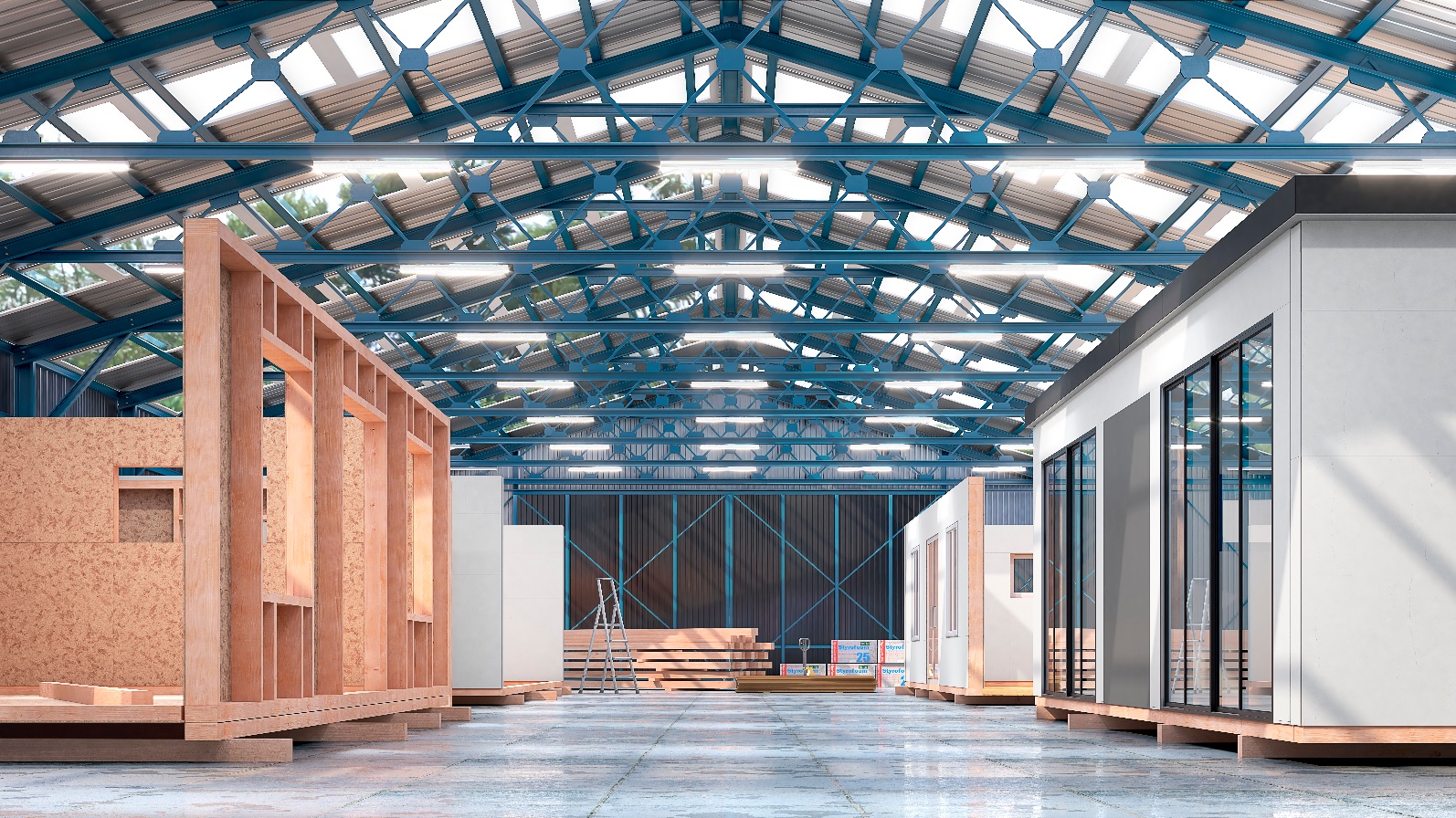 With 'build, build, build' firmly on the agenda for the UK recovery and the shortage of materials still hampering progress, particularly in the high-demand house building sector, attention has turned to alternative construction methods. One that has stood out is modular construction.
Estimates suggest that 345,000 new homes are required each year in England. Is modular construction the way forward?
What is modular construction?
Modular construction involves sections of buildings being constructed off-site in a controlled internal environment, before being delivered to the end destination for complete assembly. These buildings are built with the same materials and to exactly the same specifications, meaning they are virtually indistinguishable from more traditionally built counterparts. Building Information Modelling (BIM) can also be used to conduct testing and design, so improvements can be made on the fly.
There are also a lot of benefits to utilising modular construction. Firstly, construction of modular buildings occurs simultaneously with the work going on on-site, which means that projects can be completed in up to 50% of the time. Construction projects can also continue in spite of the weather conditions on the final site, since 60-90% of the construction happens in a factory. This helps dramatically in hitting both budgetary and completion date targets.
There is also greater flexibility and potential for reuse. Each modular construction can be disassembled and relocated for a fresh purpose, which dramatically decreases material use and wastage. Expansion of existing structures is also far easier and far less time-consuming.
Skills for modular construction jobs
In the construction industry, there will be a lot of skilled professionals who will be able to make the jump from traditional build to modular. There are also some transferable skills from other sectors that could make you an ideal candidate.
Manufacturing experience
Manufacturing experience is a key differential from traditional construction skillsets that is beneficial in the modular construction world. With an emphasis on factory-based building, experience with production lines, manufacturing systems, assembly, safety and control is highly sought after in modular factories, regardless of any construction site experience.
Quantity surveying
Like all traditional construction projects, quantity surveyors are an essential part of the modular building process. Pricing is a key element of the construction process and of importance with relation to budgets and deadlines. There is however an added element involved for quantity surveyor roles within modular build environments. This includes monitoring factory output, material usage and pace of factory construction.
Find out more about the role of the quantity surveyor here
Logistics
Working with logistics, you would be responsible for the off-site process of modular building, including supply chain management and communication, project management and budget control. With two key locations for construction in a modular build – on-site and off-site at the factory, planning and transportation is essential for the smooth running of the operation.
Digital design
Building Information Modelling (BIM) is a big element of modular design, and experience in this field will be essential. BIM assists with designing and modelling at the testing phase to allow predictions to be made and the design of the structure to be tested.
As part of this digital design phase, Design for Manufacturing and Assembly (DFMA) is a methodology in engineering that aims to reduce production costs by, during the early stages of the design process, ensuring that the construction is as simplified and cost effective as possible. Design for Manufacturing involves selecting cost-effective materials to minimise efficiency from the outset, the best time to address that issue. Design for Assembly aims to reduce the assembly time, costs and complexities by minimising parts and assembly steps.
Knowledge and experience in this area is vital in keeping to modular building's aim of being more cost effective and simplistic than a traditional build.
How to attract modular construction talent
With a skills shortage already taking hold of the construction industry, due to factors such as Brexit and a lack of uptake in construction careers, modular build companies are looking to other related industries to attract talent. These can include broader industrial and manufacturing sectors as alluded to above. There also needs to be a push to educate potential workers on the potential opportunities in the sector and the skills required. Some modular construction companies have set up skills academies, with the aim of recruiting from sectors that are traditionally underrepresented in construction, including school leavers, ex-forces veterans and women. This provide as a clear path forward for potential future talent.
Find out how we're working to build the future to secure new construction talent here, and find your next job in construction here