We caught up with Senior Recruitment Consultant James Machin to speak about the great work he's doing in collaboration with Sudbury prison, recruiting rehabilitated ex-offenders for a 2-year project in the Midlands area. James is also working in conjunction with our Group's Morson Forces team, connecting Ex-forces with civilian opportunities.
Ex-Offenders
This is one of the first times I've ever recruited ex-offenders. It came about through a client in Loughborough, with very strong social values and one of their key aims is in recruiting and rehabilitating ex-offenders.
It was something new to me, so I had to do my research before I started. It's very different from your more traditional recruitment, where you can just ring up potential candidates you find online. The key factor has been building relationships with prisons. I started by calling local prisons to the site and one prison that I've been working closely with is called Sudbury Prison.
They offer a service called 'request on temporary leave', or ROTL. This allows inmates 14 hours of temporary leave, which they can use to work. Sudbury is a Category D open prison, and many inmates are reaching the end of their sentences and beginning to think about civilian life. The scheme allows inmates to ease themselves back into working life, so it's not as much of a shock to the system when they leave.
I've been working with inmates on the ROTL scheme and finding them roles with this client. At the end of the shift, they go back to Sudbury, which allows them a nice smooth transition. What I've found is that these guys want to work. They see work as a release and it's good to be out, working and earning money. The money they earn gets put straight into their bank accounts for when they are released, which is another benefit.
My first point of contact at the prison was their recruitment liaison relations manager, Laura. She's been very welcoming and supportive. I'd never been to prison before, so I didn't know what to expect which was a little bit daunting. But when I got there, it felt more like an army barracks, which I am more familiar with. Inmates work at the prison as well. Their day isn't just sitting in a cell waiting for mealtimes. Some are in the canteen preparing food, some are doing the laundry, and some are out on the grounds doing maintenance. It's a working community really and I've found everyone to be friendly when I've spoken to inmates passing. It's not what you might expect based on representations you see in film or TV.
It was quite a different experience to what I was maybe expecting, but I think it's key when we're working with prisons to understand what life inside is like. That way we can properly support the inmates to be successful in the work we find for them.
Another factor has to be putting aside what these men were in prison for. Yes, they have committed a crime, but they have served their sentence and I believe in second chances.
Ex-offenders are a fairly untouched resource, but with the right approach and the right support, there's no reason why schemes like this can't be successful. Understanding who the inmates are and building a solid relationship while they're in prison is crucial to their success on the outside
I try get as much information from my contact at the prison as I can, so that when it comes to the point of finding roles for the inmates I can set them up for success.
We're working on a two-year project, so over time, I can imagine we'll be able to build a strong relationship with this prison and potentially other prisons nearby. Hopefully, we'll be seeing inmates go from working on the ROTL scheme to working for full-time us once they are released. The support that comes into place once they leave will be quite different, for example, we'll be speaking with the probation office. But that's something that I am more than happy to do to make sure that we can keep them on the job.
We're also going to have them on our database and be able to recommend them for future projects that come up. And if any clients are wary because of their background, we'll be able to provide evidence of their working history.
So often when people leave prison, they don't have many opportunities. Having this work experience, shows their commitment to the transition into civilian life. It shows that they're willing to work, to better themselves, progress and change their life around.
A lot of the inmates I've spoken to have families that they want to provide for and the scheme is a fantastic way for them to do that even before they are released. Then once they are out they've got a job to fall back on it takes away that stress and anxiety of trying to find work.
Based on this experience I would be happy to have a conversation with any client that is perhaps interested, but a little bit apprehensive about working with the prison service and ex-offenders.
I was speaking to another client that has strong social values, and they were a little bit apprehensive because they've tried something similar before and it didn't work out for them. I think having an open and honest conversation with the client is probably key to removing any kind of stigma behind it.
At the end of this project, I would like to put together a case study that can give real-life examples of how the scheme can work and be beneficial for both the ex-offenders and the employer. My role is a little bit of a go-between to make sure that the client's happy, make sure that the prison service and the ex-offenders are happy and that everyone has what they need in order to succeed.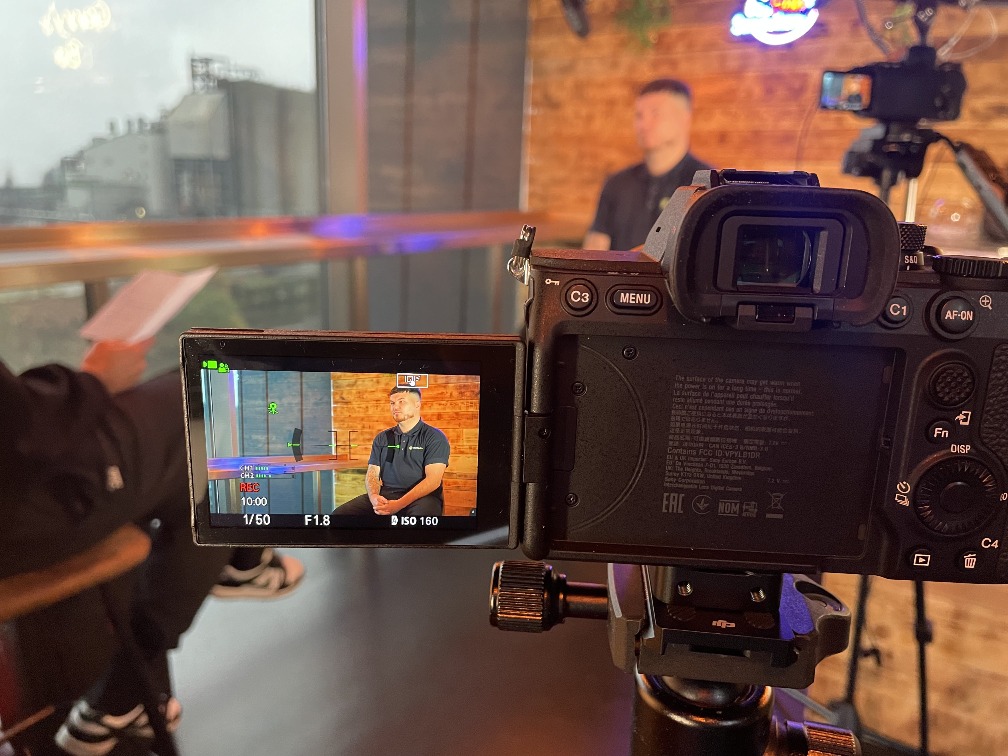 Ex- Forces
Another area I've been working in recently is with ex-forces candidates, especially those with military backgrounds. There are lots of people who've recently left or are about to leave the armed forces and are looking for a civilian career and it's great to be able to find them roles on this project too
It is a transition that is quite similar to the one that the ex-offenders go through. Being in the armed forces you get used to a very structured way of life and coming out of that can be quite daunting. It's only natural that they would be apprehensive, so I'm here to support them in their new roles.
A lot of the time they ask me very practical questions. How do I set up a bank account? How do I set up a limited company? How do I set up a UTR number? Civilian life is very different and new for them. It's been interesting finding out about their skills and goals, going into the new year there will be more opportunities for the forces guys and there will be more senior roles coming in into play which will be exciting.
The kind of roles we have cover everything from gateman to banksman to potential site managers. As a business, in the Birmingham office, we've got a section of the team that deals with engineers.
One thing I did notice when speaking to people at the CTP (Career Transition Partnership) event, is that there were lots of engineers. Engineering is a skill set that's always in demand, if we collected CVs from these ex-forces engineers, I know a lot of clients would snap them up straight away.
Gateman would also be a good opportunity for somebody in the forces. It pays a little bit better than labouring does, and there's more authority required as a gateman that I think those with a military background would be able to execute well. The gateman is dealing with people coming in and out of the site on a daily basis, they've got to follow strict rules and procedures and I think somebody with a military background would do well there
The client is looking for candidates that will stay for the duration of the project too and the ex-forces personnel I've been speaking to have said that they're looking for that level of security. So it's a win win for everyone who's involved.
At Anderselite we're committed to working in partnership with our contractors, clients and wider supply chain to make a tangible, positive change to the world around us.
If you would like to know more about Anderselite's commitment to community outreach and the benefits of working with a responsible recruitment partner, get in touch with James.Machin@anderselite.com or Daniel.Butler@anderselite.com